TRANSPORT GALLERY
FOUR STROKE DIESEL ENGINE



The Transport Gallery comprises historical developments in transport and related technology. Be it Rail, Road, Air or Water Transport - every exhibit is a working model.




Rail : From Richard Trevithick's engine to present day diesel engine, the working principle is clearly demonstrated.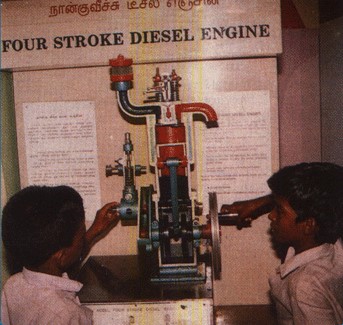 Dr.Rudolf Diesel obtained his patent on the principle of the diesel in 1893. Fuel is injected into the heated air for ignition which creates a pressure to send the piston down ward (Power stroke).




GEORGE STEPHENSON'S ENGINE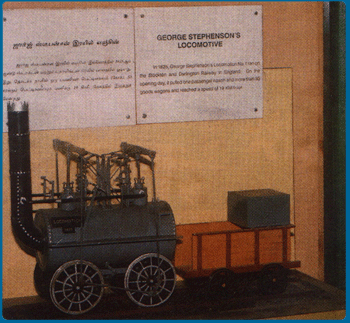 In 1825, George Stephenson?s Locomotive ran on the Stockton and Dolington Railway in England. On the opening day it pulled one passenger coach and more than 30 wagons and reached a spead of 19 km/hr.




FUEL SYSTEM OF DIESEL ENGINE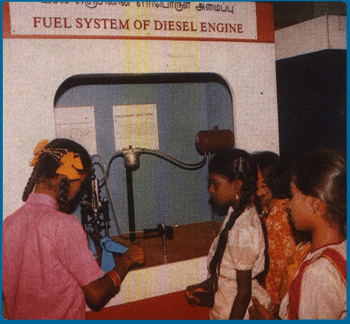 The fuel from the tank is pumped into injection pump through fuel feed pump operated by cam shaft. This fuel injection pump supplies fuel endery extremely high pressure equal quantity of fuel at equal intervals according to the engine firing order.




HINDUSTAN TRAINER AIRCRAFT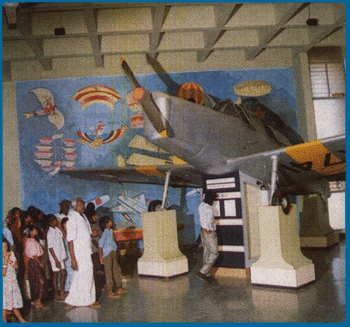 It is a single engine, low wing monoplane a trained aircraft.
Road:The inside story of gears, axles working of diesel and petrol engines (two stroke & four stroke) is on show. The visitor can operate the engine to his/her complete satisfaction.
Air: A working model of Wright Brother's Flyer model. HT-2 air frame, fuel drop tank and different types of aero engines can be observed.
Water: A variety of sea going vessels - trading vesels along with actual scale models of Sagar Bhushan, Visvaparajit, Prem Lok and Dredger are on display. An interesting model of a submarine and a working model of a typical harbour have also been included.
HARBOUR MODEL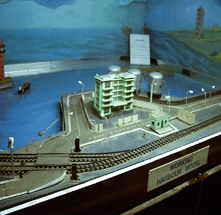 The sequential operation in handling cargo in a typical Harbour is displayed.
CUT SECTIONED CHASSIS OF A BUS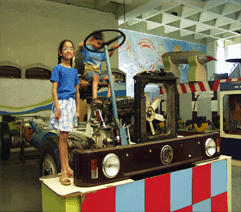 All the essential parts of transmission such as steering, front axle., cluch, gear box propeller shaft and chart differential, and rear axle are shown as cut sectioned working model.