ABOUT US
Tamilnadu Science and Technology Centre was established by the Government of Tamilnadu in the year1983,registered under the Tamilnadu Societies Registration Act 1975, with the main objective of popularizing science and technology among the people in general and students in particular.
Tamilnadu Science and Technology Centre has been rendering excellent educational services throughout Tamilnadu by conducting various educational and extension activities.
Realising the important role and the commitment in the society, the centre has been approaching various educational institutions, research organizations, philanthropists, government departments and other establishments to get sponsors and donation of exhibits for the permanent display in the existing galleries , conducting extension activities and other development programmes.
The donations contributed to Tamilnadu Science and Technology Centre are exempted from Income Tax under section 35(i), (ii) of the Income Tax Act. 1961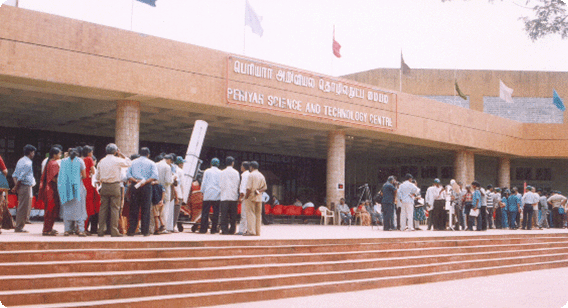 Tamilnadu Science and Technology Centre has established the following centres:
Periyar Science and Technology Centre with B.M Birla Planetarium at Chennai, Anna Science Centre - Planetarium at Tiruchirappalli, Regional Science Centre - Coimbatore and District Science Centre - Vellore.
R & D
G.O.MS.NO.53 dated 02.05.1986 Government of Tamilnadu has recognized TNSTC as a Scientific Labororatory intended for advancement of Technology, research and development in the state
Ministry of Science and Technology, Government of India have also recognised TNSTC as Scientific and Industrial Research Organisation
| Periyar Science and Technology Centre,Chennai | Inaugurated On |
| --- | --- |
| B.M. Birla Planetarium | May 11,1988 |
| Halls of Science and Technology | Septemper 17,1990 |
| Anna Science Centre- Planetarium,Tiruchirappalli | Inaugurated On |
| Planetarium | June 10,1999 |
| Environmental Gallery | April 22,2006 |
| District Science Centre, Vellore | January 25,2011 |
| Regional Science Centre, Coimbatore | May 6,2013 |