ANNA SCIENCE CENTRE -Planetarium, TIRUCHIRAPPALLI
Anna Science Centre, Tiruchirappalli has been rendering excellent and yeomen service to cater to the needs of younger generation and the general public of the region in the cause of education, taking up the objectives of Tamilnadu Science and Technology Centre, eversince it was dedicated to the Nation on June 10, 1999.

The Planetarium, which has been a source of information and inspiration in the region, receives students in groups visiting from Pudukkottai, Thanjavur, Perambalur, Dindigul, Karur, Madurai Districts apart from Tiruchirappalli.

At Anna Science Centre - Planetarium, Tiruchirappalli, the Environment Gallery, with the exhibits on the themes Eco System, Bio-geochemical cycles, Biodiversity and Conservation, Pollution and sustainable Energy sources was developed at an estimated cost of Rs. 30.00 lakhs, with the financial support obtained from M/s. Indian Oil Corporation Limited. This educational facility was dedicated to the nation on April 22, 2006.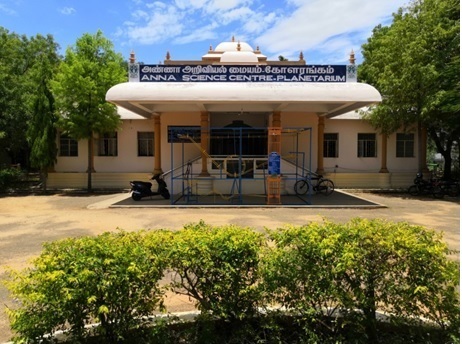 Activities
Halls of Science
Timings.
Open on: Weekdays Including Saturdays, Sundays and Public Holidays.

Closed Only on: Republic Day, Independence Day and Gandhi Jayanthi
Science Exhibition

Planetarium Programme





Halls of Science & Technology

10.00 a.m to 05.45 p.m



Tamil

10.30 a.m.

01.00 p.m.

03.30 p.m.

04.45 p.m.

English

11.45 a.m.

02.15 p.m.