ELECTRONICS & COMMUNICATION GALLERY
SATELLITE COMMUNICATIONE
Technology that deals with the behavior of electrons is called Electronics. Tele-communication has become a part and parcel of our every day life.
In this gallery, exhibits on Telegraphy, Telephony, Facsimile Communication, Television, CCTV, Electronic games, wireless Communication, Satellite & Optical fibre communication, Ground Wave and Sky Wave propagation, used in medium and short wave communication for Radio Broadcasting, are on display.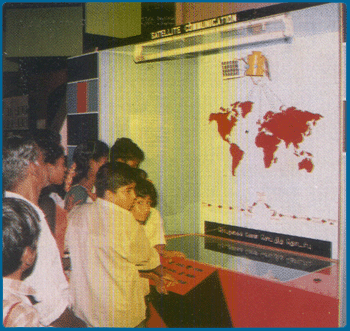 The communication path on the world map between selected two places via satellite along with the electronic process involved is shown.
VIEW OF CLOSED CIRCUIT TELEVISION SYSTEM<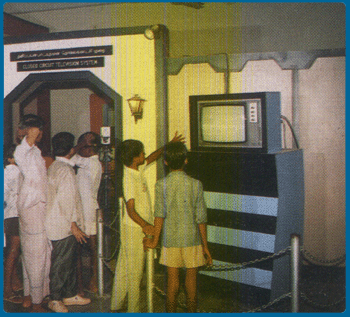 The television camera pick up the programme, converts it to a video voltage signal and sends it by cable to the television receiver for private viewing.
VIEW OF BROADCASTING STATION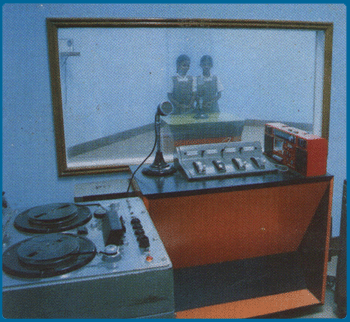 The Model Broadcasting station has a recording room where in the visitors can record their programmes and broad cast at 1420 KH2.
MORSE CODE TRAINER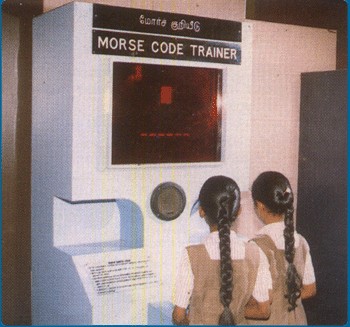 In Telegraphy, Samuel Morse introduced a language to convey messages from one station to another station.Such a Morse language is electronically composed.
STROWGER EXCHANGE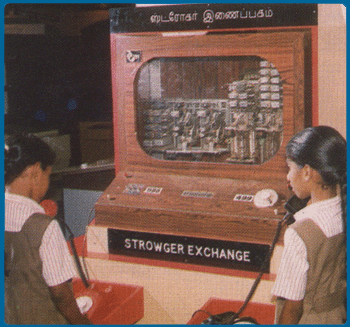 In the evolution of telecommunication , Strowgwer Exchange was in use in the early stages.
VIEW OF TRANSMITTING TOWER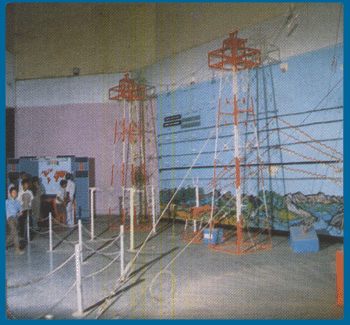 The short wave transmission explaining the sky wave propagation and the Medium wave transmission explaining the ground wave propagation of Radio waves explained in the Transmitting Tower.